Winter as you all know is the dark weather. It needs to observe the bright colors and it can feed on it. Black and white combination is the best combination for this season. You bet it's classic and fabulous for many reasons. This color can be seen in different age groups but specially teens. They have to wear black and white color out in the streets. When going out for shopping or to your colleges and universities, teenagers definitely grab the black and white Street Style outfits to wear in this winter season. We always try to put together a list of handpicked outfit ideas for our fans to follow and copy. Enjoy the list girlies
This oversize plaid with black and white combination. Intense and bold for street style wear. so popular this season in teenagers. Go grab these!
This pretty chick wearing black blazer and white top with black & white cap. Black handbag adds more beauty. Simply astonishing and high value to your personality. Grace with hashtag street style look for your girlies!
Sometimes you have to look different then the others around you. If you add a little bit of your own unique taste to your wardrobe then this beautiful outfit comes in your way. Black and white with touch of leopard in your hands. Superb and smashing gorgeous!
Hands up girlies! chic black + white jacket = love. Yes this equation is always yummy-licious to your wardrobe needs. It spreads the flowers of fashion around. Super for this season if you love to go out in the streets showing off!
Check this white v neck, black cardigan with lots and lots of accessories. This look needs no words but awesomeness!
Next we have casual work black blazer with white T shirt along side black jeans oh and yes black boots. How wonderful this look can be in the streets walking with pride!
Sometimes you have to be rough! You need to be effortless. So here's this look which is quite effortlessly done by this pretty teenager!
In this winter, there is no way you can miss cropped tartan trousers + ankle boots and yes white shirt under this knitted sweater. How fearless this fashion look is? yes you should definitely grab it!
And this crunchy T-Shirt, Black jacket, Mango jeans adds a perfect look for your street outfits. Black and white colors are dark and bright same time. Shows how colorful personality you have. Grab them!
This classic casual outfit for teens who love to go out for movies. Pretty comfortable and casual wear for hangouts and sleek street style look.
Sizzling Black and White Outfit for Fall. With black long heels which is definitely adding a sexy look! for all the fashionista's out there this is your outfit!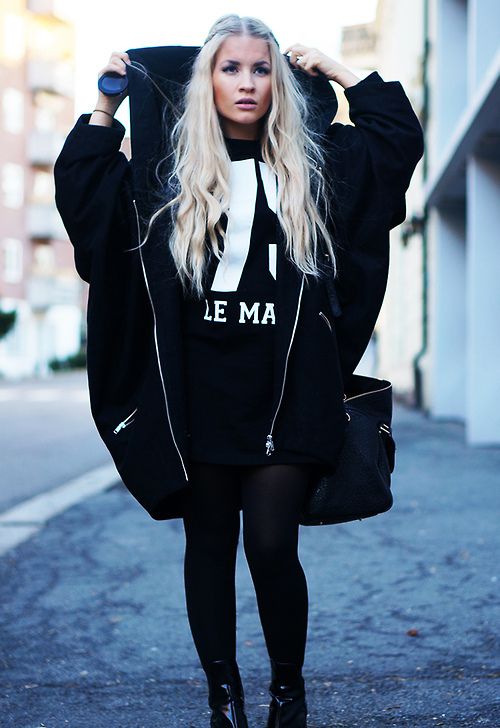 This one is different but most favorites ones of all! Just look at this graceful black and white outfit. Amazing isn't it? well yes you know better then anyone! If you're planning to go for a movie night with your besties then this is your go-to outfit!
What's more important for teenagers is how to look the best in college. This look is specially for college teens who love to hang around the college park and wants to show off their fashionista looks!
This milky-white and dark black is a mixture of divine look! truly amazing for teens to look mature and casual on the same time! awesome isn't it? Go for it!
This dress is classic Black & white..and yes the shoes off-course. These will make you happy and will give you comfortable feel for this fall!
If you're competing with guys this winter then why not this black and white look? yes its perfect!
Two words; Black and White! makes wonder for this winter! Grab these and you wont be disappointed!
Check this out! Black and white patterned coat + white blouse with black bow tie + black skinny jeans and heels. Super look of street style outfits.
Whats better then these leather pants Street style. Adding a class to your wardrobes and flashing the streets with your fashionista looks!
Last but not the least, black on black with some white casual street style. Oh yes black and white shoes for sure!
Hope you have enjoyed this list pretty teenies! This one is specially for you peeps! Don't forget to share with your friends and family and yes besties so we can spread our lovey dovey love!