Perfect for the ramp up to fall, this rich green makes even the most standard silhouettes feel more invigorating. Here are some of our favorite color-saturated pieces.
Purchase it here
How pretty would this be to wear to work over your blazer? It's a pretty sleeveless shirt dress in striped tweed featuring asymmetric piecing and solid-tone shoulder with a solid-tone back with zipper closure. Wear this with black high heels.
Purchase it here
Wear a kimono-sleeve dress with V-neckline and a cutout back with split cape overlay to your next date night. It gives a romantic feel because it's super simple yet classy. Easily pair this dress with silver strappy sandals and a silver clutch box for a nice touch.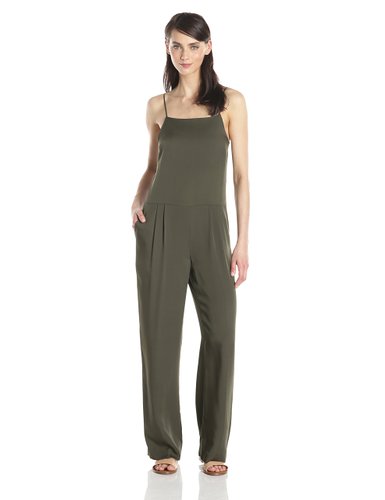 Purchase it here
This fatigue silk jumpsuit is really chic. It has a wide leg and welted back pockets. Easily style this with sneakers, an envelope clutch and a trendy gray blazer for a cool street-style look.
Purchase it here
For a sultry outfit for fall nights, get yourself this army green body-con dress. It's a plain dress that hugs you in the right places. Wear this dress with nude high heels to make you look taller and sexier.
Purchase it here
Look classy and sophisticated in this dark forest green chained shoulder bag. It's sturdy and it gives you the upgrade that you deserve for staying with black and browns throughout the years.
Purchase it here
Here's a super cool alternative to your black faux leather jeans. It will be appropriate for daytime wear paired with a plain white top and some sneakers or boots then for nighttime, a spaghetti strap top then high heels.

Purchase it here
Speaking of boots, you're going to need subtle-colored boots instead of the usual black, browns and nudes. If you want something stylish to add to your wide range of shoe collection, you definitely need this dark green suede boots. Just like black ones, this will go with just about anything you wear for the day.

Purchase it here
You're going to need a jacket that's stylish and can fight the harsh weather. This khaki hooded fit trench is made of cotton and has leather lining. It's a stylish jacket for casual wear and will look great with a lot of your outfits.